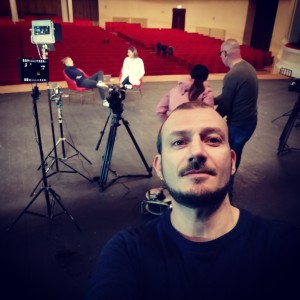 Sono nato a Pistoia nel 1978 ed ho frequentato l'I.T.I.S diplomandomi nel '98 come perito elettrotecnico, ma la mia passione per la grafica mi ha portato a seguire tutt'altre strade.
Da allora ho avuto modo di maturare la mia esperienza sul campo, lavorando per agenzie che si occupano di Comunicazione e grafica a vari livelli.
Negli anni ho potuto spaziare tra generi assortiti di produzioni quali DTP, fotoritocco, illustrazione, montaggio video e compositing, animazione e render 3D, per settori altrettanto variegati che vanno dal medicale all'abbigliamento, occupandomi di comunicazione Above&Below the line, B2C e B2B. Da diversi anni collaboro con ZuccherodiKanna e C4DZone.com per conto dei quali sono istruttore di Cinema4D e Vray.
Nel tempo libero mi piace leggere, viaggiare quando posso e sono appassionato di cinema, riesco a digerire più o meno qualsiasi cosa a parte Vanzina e Neri Parenti. Non sono su Flickr e detesto Powerpoint.
I was born in Pistoia in 1978, I graduated at ITIS (Technological Institute) in '98 but my passion for Graphics led me to follow a totally different path.
Since then I had the chance to gain experience on field experimenting various type of productions like DTP, photo retouching, illustration, video compositing/editing, 3D rendering/animation, in equally various sectors ranging from medical to fashion design, dealing with Above&Below the line, Business2Business and Business2Consumer communication. For years now I've been cooperating with ZuccherodiKanna and C4DZone.com as Cinema4D and Vray instructor for private courses.
In my spare time I like to read and travel, i'm fond of cinema and visualFx, I'm not on Flickr and I loathe PowerPoint.